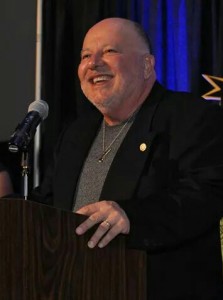 We have all come across people who have either impacted our lives or the communities in which we live. Someone who has impressed me both personally, as well as, for the contribution he has made to our community is Mike Riley, Charlotte County Schools Community Relations Officer, Charitable fundraiser and founder of one of the most sought-after bands in Southwest Florida, The BoogieMen!
With Halloween around the corner and its ghoulish stories of ghosts, goblins and haunted houses, there is a Boogieman out there who is quite different from the one you heard about as a child growing up. For Mike Riley it is all about "serving the community and others before self," and his impact on the lives of so many others, both young and old alike, is simply inspiring.
Growing up in Hamilton, Ohio, he was born to Roy and Margaret Riley and joined his "big" sister Pat to make their family. They instilled in him, "the respect for your elders, compassion for others, and a desire to love life and live every day to its fullest," something Mike holds dear to this day. While he grew up with a love for the outdoors, like many children in the 50's and early 60's he was captivated by the music of that era. When he first heard of The Beatles he thought they were The Chipmunks, but it was a friend of his sister's who showed up to their home one day in his mint green '57 Chevy and opened the trunk of his car to show off a sunburst Fender Stratocaster guitar on top of sheet music and 45 records that the music bug bit Mike. After putting his sister's Johnny Mathis, Bobby Vinton and Frankie Avalon records away for Buddy Holly, The Beatles and The Everly Brothers, Mike was hooked and it has been in his blood ever since.
After graduating high school in 1970, he went on to Miami of Ohio University part time for the next ten years while working full time and raising a family. Upon graduating with a Bachelor of Science degree in Physical Education he moved that summer of 1980 to Charlotte County, where he accepted a teaching position at Meadow Park Elementary School and taught physical education to "a few thousand of the greatest kids in the world for ten years."
He went on to further his education, receiving his Master's degree in Educational Leadership from Nova University in Ft. Lauderdale, and in 1990 accepted the position as Assistant Principal at the brand new Myakka River Elementary School. From there Mike went on to become Assistant Principal at Neil Armstrong Elementary School and then Port Charlotte Middle School before accepting a position as Manager of Adult and Community Education, which he held for six years. His service to the school system was highly recognized by Dr. David Gayler, Superintendent of Schools, who fifteen years ago asked Mike to serve as his link to the community and spokesman for the district as School Community Relations Officer. He also serves as the liaison between the school system and the non-profits, as well as, youth activity providers, but his service to community and the children doesn't end there.
"Riley" as he is known to his closest friends, has served on a host of boards that include Youth Service Boards for the YMCA, The Boys and Girls Club of Charlotte County and the Education Committee for the Chamber of Commerce. He has chaired Education Day for Leadership Charlotte for 8 years, The Business/Educators Exchange Day for 6 years and has been the liaison for the Take Stock in Children Scholarship Program for 20 years while mentoring dozens of students from 8th grade through their high school graduation. And if you still aren't impressed, aside from many other community leadership positions focused on local and state education and literacy, Mike is a past president, a "Paul Harris Fellow," as well as charter member of the Peace River Heights Rotary Club, whose motto he practices to this day, "Service above Self." This organization sponsors scholarships for local high school students and non-profits including "For Love of Kids" and "Project Graduation" for Charlotte High School seniors, but this is only part of his generous "giving back to his community."
The Rock and Roll Hall of Fame, has nothing over Riley's home which in itself is a "hall of fame." Perhaps the best way to describe this living tribute to rock n' roll history is if you took Peter Maxx and Sgt. Pepper and sent them on a Magical Mystery Tour!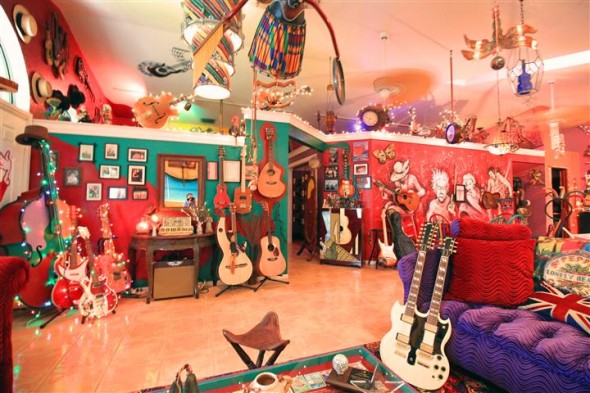 Almost 50 guitars hang from these history laden walls, each with an incredible story to tell, and there is no better story teller than Riley who said, "Even the artwork and furniture has a story to tell," as I noticed a unique cabinet that had the lower right corner missing.
Riley proceeded to tell me as a child growing up his friends and their fathers all owned guns, on Riley's Wedding Day, his hometown buddy Danny Rommel was at the house and the conversation turned to guns they had. Riley went in and brought out a customized shotgun he had that hadn't been shot in 20 years. While racking the gun it went off, blowing a hole in the door of his liquor cabinet. Riley said, Danny overreacted, claiming he was hit in the leg as he sat on the couch on the opposite side of the room, but as Riley confided, Danny was in love with telling the story of this new misadventure! He still limps whenever he sees Mike coming.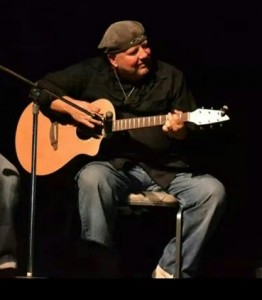 He recounted the days when he was 10 years old and a neighbor returned home from the Army by the name of Johnny Allen. He wanted ten dollars for a guitar he got from Thailand. Roy, Riley's Dad, would trade the belt off of his pants so he swung a deal and he had his first guitar. While he played on and off throughout his high school years, one of the first groups he played with in Charlotte County was with his son and one of his son's school friends. He said they played on the steps of the old courthouse 34 years ago for the 4th of July Fireworks, as well as, some weddings and parties. It was a 4 year run as a 32 year old playing with a 10 and 12 year old. Even though Riley founded the group, the boys eventually kicked him out, as I got the distinct impression the boys felt he was holding them back.
However, in 1990 Mike formed the area's premier "Rock and Soul" band called "The BoogieMen." This is a high energy ten piece band that has opened concerts for The Beach Boys, Kansas, The Edgar Winter Group, "Dangerous Dan Toler," Herman's Hermits, Rare Earth, The Outlaws, Grand Funk Railroad, The Grass Roots, The Rascals and many other Rock, Soul and Country legends. When I asked Riley, with a resume like this why he didn't take the group on a national tour he replied, "That was never my intention." He said, "members of the band all had day jobs and family commitments, and the goal was to have some fun while helping support local charities, raise funds and improve lives."
Twenty five years later The BoogieMen are still one of the most sought after bands in southwest Florida. They have played 128 benefits and changed the lives of many, both young and old.

Five years ago, Ron Evans and his partners from Smuggler's Enterprises made a decision to recognize someone annually at the 4th of July Fireworks celebration who epitomizes community service. The award was crafted for someone who selflessly gives of their time and talents to improve the lives of both children and the adults in our community. This is accompanied by a $5,000.00 donation to the charity of the recipient's choice. Mike was the first recipient of the award on July 4, 2010 and the award read, "In recognition of character, integrity, honor, generosity, community service and student mentoring…" Today this award is known as the "Riley Award," a true testament to this remarkable man.
Since that time Mike has gone on to receive numerous awards for his dedication to his community and the children within the community whose accomplishments he is even more proud of than his own. He is one of the most humble people I have ever had the pleasure of meeting and proud to call a friend. While his family inspired him to respect and care for others, I think Mike's own words say it best when he says, "I am proud to call Charlotte County my home, and I hope that in some small way I can make a difference in the quality of life and self-esteem of the children and adults that are part of my community."
Now, I don't know about you, but this is not kind of Boogieman I ever knew!