Most of us remember with fondness the hit television sitcom "Cheers" which depicted a neighborhood bar in Boston where friends from all walks of life shared their lives and experiences with each other. From the pretentious Psychiatrist Frazier Crane and his significant other, Lilith Stemin to mailman Cliff Clavin, every socio economic class was represented. And who can forget Carla's sarcastic wit?
They had their regulars like Norm who always had his special seat at the bar where everyone seemed to congregate and then you had the emotional roller coaster relationship between Sam Malone and Diane Chambers. 
It was a microcosm of society at that time where heartbreak, dating advice, fun pranks and banter were the menu of the day
. What I loved about the show was that it 
represented a place in time where people from diverse backgrounds could come to unwind at the end of the day in the warm embrace of friends
.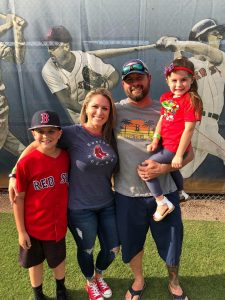 While Cheers is no longer on the air, such a place does exist in downtown Punta Gorda known as Leroy's Southern Kitchen, or to us regulars, "Leroy's". Like Cheers, you will find every profession from doctor and lawyer to fishing guide and cattle rancher, all enjoying each other's company. You'll have your regulars at the bar, and all will be the recipients of that same banter and pranks from an amazing group of bartenders and wait staff. However, unlike Cheers, Leroy's takes it a step further with an outstanding food menu, "Class A entertainment" second to none,and a commitment to serving their community.
The brainchild of owners Lee and Jamie Richardson, aka Sam Malone and Diane Chambers, Leroy's was created as not only a friendly neighborhood restaurant and bar, but a place where families and children were always welcomed. However, there's more, as they see themselves as "working for our community" which you'll soon find out.
Lee, grew up in Port Charlotte and Jamie, who was originally from Oklahoma and had moved with her family to Cape Coral, met at a restaurant in Cape Coral Lee owned with partner Shannon Yates called "Nevermind Awesome Bar and Eatery." In true Sam Malone fashion when asked how they met, Lee said, 
"When Jamie first met me she fell in love"
however, similar to a Diane Chambers response with a wink of the eye and sarcastic laugh, Jamie seemed to have perhaps a more realistic version that just the opposite is what really occurred.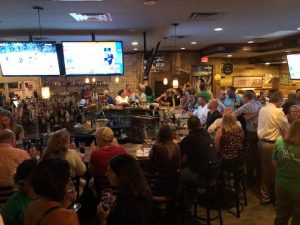 Having come from an extensive background in the restaurant business that included 10 years with Outback, opening up the Port Charlotte location and many others, to becoming General Manager back in 2005-2007 helping open the very popular "upmarket" restaurant named "CRU" in the Bell Tower Shops in Fort Myers, Lee took those experiences to create "Nevermind Awesome Bar and Eatery" with then partner Shannon Yates. However, at the same time they also had the food and beverage contract with the Boston Red Sox at their Fort Myers spring training facility. Wanting to get back to the area he grew up, and promising Jamie a return to
 "country living"
, the two partners decided Shannon would keep "Nevermind", Lee would keep the contract with the Red Sox, and 
together Lee and Jamie would open a unique neighborhood bar and restaurant in Punta Gorda that today is called Leroy's. 
Opened in 2015 and remodeled in 2017, Lee and Jamie see it as a "family establishment". Jamie says, "We wanted to create a place where you felt welcomed if you were just coming off your boat or looking for fine dining with no pretense."During spring training season their lives get pretty hectic as Lee leaves at 4am to get to Jet Blue Park in Fort Myers, which is the spring training facility for the Boston Red Sox, and returns home at 2:30 in the afternoon. Then after a quick power nap he and Jamie can be seen working late nights at Leroy's, and this is in addition to being two loving parents of two amazing children. Of course as a New York Yankees fan, I could make their lives much easier by telling them to cheer for the Yankees instead of feeding the Red Sox, but since both have become such avid Boston fans I'm not sure my suggestion would get much consideration!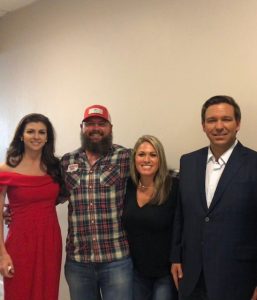 Being of the belief that there is more to life than simply running a business and providing for one's family, Lee and Jamie feel you have to 
give back to your community and those in need
, and that is where Leroy's becomes much more than Cheers.  Both feel Leroy's needs to be a place where 
people can come to unwind or be entertained
, but also has to be a 
place where community leaders, state representatives and non-profits can meet in a more personalized setting with the general public
 who will be impacted by their decisions. Lee and Jamie recently provided such an opportunity for Agricultural Commissioner candidates Matt Caldwell and Nicole "Nikki" Fried and gubernatorial candidates Andrew Gillum and Ron DeSantis to meet the public, of which Friend and DeSantis did appear. They continued by saying, 
"Our society has become too polarized where people are being influenced too much by the media instead of hearing all viewpoints and having the opportunity for a constructive dialogue. Leroy's will always be available when possible to provide an unbiased platform where people can come to get a more intimate understanding from those we elect to office, regardless of party affiliation.
"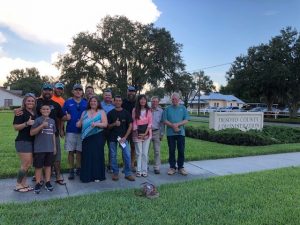 The Richardson's are also staunch advocates for the protection of Florida's natural environment and resources. They are supporters of "Captains for Clean Water" and are very  involved in the "Peace River Charlotte Harbor Environmental Awareness Group" simply known as "PReaCH."If that isn't enough, Lee and Jamie have organized support for those  impacted by both Hurricane Irma and Hurricane Michael which recently devastated the Florida's panhandle. Patrons and friends came to support their efforts as they were personally able to deliver over 11,000 lbs. of supplies to those in need to the Panhandle alone.
For those who don't think there is enough to do for the young citizens in our area, the Richardson's strongly feel 
you are only limited by your desire to get involved. 
"Just look at our natural resources, our restaurants, the events continually going on around town, not to mention all the organizations we have."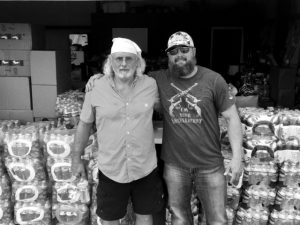 Wise beyond their years, this talented couple, with smiles as contagious and big as their hearts, have created Punta Gorda's version of Cheers where you can be assured you'll feel that same warm embrace the moment you step through their doors.