Most people think of Valentine's Day as that time of the year when we express our love and affection to those we hold so dear. We shower our loved ones with heartfelt cards, bouquets of roses, dark chocolates and romantic dinners. It is that special time when we give love and feel loved a little bit more.
As I've grown older, I have come to understand love doesn't just come in neatly wrapped boxes or beautifully arranged flowers given to those closest to us, but comes in the form of a passion, service and love for others as well. And it isn't something that comes around just one day of the year.
Over the years, I've written about many people who have embodied that "Valentine's Day" spirit, by giving so much to their community, and this month we are featuring someone who's giving was inspired out of a special need.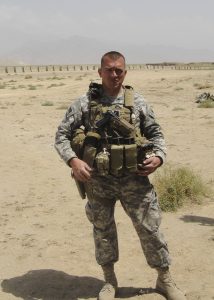 Allen "Al" Carsten was raised on a farm in the small town of Guilford, located in upstate New York. Like many children growing up in farming communities, Al learned at an early age how to balance his academic responsibilities with the physical chores required to maintain a family owned farm. It was during those formative years Al developed a love and appreciation for family, community and country.
In 1991 Al joined the U.S. Army, the start of a military career that spanned 21 years. As part of the 12th Bravo Unit, Al was a Combat Engineer. This was a group that went out unprotected to clear the way for the infantry. He said, "You had to have your wits about you as at any given time you could be killed, since you were sent out in advance of the troops unprotected." He confided, while he had never seen written documentation when they were in training for this military role, they were told during the Korean War a soldier acting in a similar capacity had a life expectancy of 12-14 seconds. Interestingly, after speaking with Al, a client of mine who is a Korean War Veteran told me, "12-14 seconds if they were lucky!" Whether this was factual or not, it was a sobering thought as to the dangers of their mission.
Al spent 4 years in Germany after deployments in 1991 in Kuwait and 1994 in Bosnia before joining the National Guard in 1997. During his years in the Guard, he had deployments to Afghanistan as well.  While in Afghanistan Al served in the 3/20th Special Forces Unit as a 92A which provided logistic air support.  However, after the terrorist attacks on 9-11, his role with the National Guard was more involved back home with customs and hurricane relief.
Like many Veterans who have been impacted by the traumatic experiences in war, Al experienced Post Traumatic Stress Syndrome (PTSD) as well. Not one who believed in taking drugs to cope with the effects, he sought the advice from Steve Glover, his Pastor at Deep Creek Community Church. Pastor Steve told Al, "You help other people; you'll see healing for yourself." The Pastor's words couldn't have been more profound as shortly thereafter he met other Veterans at a Memorial Day service the church was hosting, and it was there that he decided to start a Veterans' group with fellow combat Veterans Milton Santiago, Michael Santiago and Ron Brown. Al said, "We wanted to form a group where there was the camaraderie and comfort we needed". He continued by saying, "Church's always have needs, but I saw a need for Veterans." "It was a vision in my heart that it was our turn to give" that inspired me to create, "It's Our Turn," a non-profit organization consisting of a board of Veterans and a support group of volunteers. "Too many times a large percentage of the donations received go to offset the overhead of the non-profit and its salaried employees. Our donations go to the Veterans, as we have very little overhead and everyone is working on a volunteer basis. Most of our overhead is associated with the Memorial Day 10K and 5K race fundraiser."
Shortly after creating "It's Our Turn," Al recalled how the group of veterans would go once a month to the Renaissance Home for homeless Veterans to make pizza to help uplift their spirits. On those visits he saw the living conditions many were in and felt compelled to do more, but needed the funds to accomplish his goal.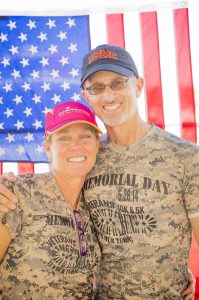 Al participated in a "Run for God," Life Group at Church where their theme was "From Couch to 5K." It was there that he met a dynamic couple, Roy and Karen Borrego. Roy and Karen are perhaps the epitome of goal getters, as they will not let anything stand in their way when supporting causes passionate to them. In addition to their passion, they are gifted competitors as Karen has competed nationally on the equestrian circuit and Roy in the physically grueling "Ironman" competitions. Al recalls, "When I approached them about starting a 5K to help fund the needs of Veterans, they jumped on my request with such enthusiasm and passion I just told myself "Hold On," as I knew this was going to be a wild ride."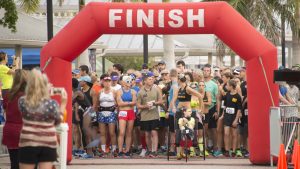 Together they created the Memorial Day Veteran's 10K and 5K race which is now going into its 6th year. Al said, "That first year Roy went out and got sponsors and we generated $18,000 in funds with 300 runners participating." In just over 5 years they have received donations totaling over $250,000 and this year are expecting over 800 runners to attend. These funds have helped pay for electric bills, air conditioning units, donated cars, and matched funds to help financially support the children of a Veteran battling breast cancer. For one very deserving Veteran they even picked up the entire cost of a $50,000 Habitat for Humanity Home. They purchased a $28,000 van for Veterans needing transportation to the VA hospital and various area destinations and events. Al said, "While the big things are nice, it is the smaller things that oftentimes are more meaningful, and our goal is to serve as many veterans as possible." He added they have worked alongside the Volunteers of America at Veteran's Village that take in homeless veterans and give them housing and training for a period of time in order to get them back into the workplace. He credits Larry Brown with the Charlotte County Veterans Services as being a key partner in helping identify and address the needs of the Veterans throughout the county. Al proudly states, "The funds we generate stay in the county and aren't being used to offset the high operating costs of a national organization outside our area."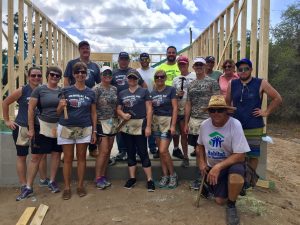 Perhaps one of the most meaningful contributions "It's Our Turn" makes is to the "Honor Flight." Each year $5,000 is contributed for 10 Veterans to take a flight to Washington, D.C. to visit many of the monuments and memorial sites. Allen tearfully said, "The older Veterans rarely got the fanfare they deserved upon returning from the war. They internalized their trauma and just went back to work. Many stepped away from illustrious careers to serve their country, such as Joe DiMaggio and Elvis Presley. While these were some of the more notable ones, there are scores of others who never received the accolades they deserved. We celebrate those Veterans with a band as they return from their Honor Flight."
As Al looks ahead to this year's race he said, "We need more community involvement. This isn't just another race, this is personal. People run this race with pictures or some kind of memorabilia pinned to their outfits in memory of loved ones who have, or who are currently serving. We even had someone carrying a flag in memory of "brothers" lost in Afghanistan."
Many people who know Gail and I have seen our involvement and support throughout the years to many great causes in our area. However, as I get older I have discovered an even more profound love for those who have given so much of themselves, so we could enjoy the freedoms we have today. While I will make sure this Valentine's Day my wife feels the love she deserves, I am very committed to making sure those who have served, or are serving, feel that same appreciation throughout the year.
If you would like to learn more about "It's Our Turn," or to donate, you can go to their website www.itsourturninc.org or www.memorialdayrace.org.