As October rolls around, you see the tents go up in downtown Punta Gorda. The true mystery lies behind the curtains where they are assembling the largest haunted house in Southwest Florida. Since 2010, the Smuggler's Event team has been orchestrating this popular community festival "Haunting on the Harbor." This year the fright begins Friday, October 25th.
Sitting down with Kelly Liscum, the Vice President of Smuggler's, I was able to get a behind the scenes take on this annual event. When creating a 6,000 sq. ft. haunted house, the planning process starts as soon as the event of the previous year concludes. Designing and production is all done by the Event Manager, Jerry Cleffi. Each year the haunted house theme is changed around so you are never walking in experiencing the same thing twice from the previous years. In true Smugglers fashion, this is a family affair with Jerry's family being his biggest sidekicks in the design and production process as well. Three weeks leading up to the event is when the Halloween magic is implemented and taken off paper and put into production in city square. It's an "Enter If you Dare" event with lighting, characters, and props that are one-of-kind in our area!
Although the Haunted House is more suitable for ages 10 and up, there is truly something for everyone when you come to this multi-day family festival. This year there will be FREE Gate admission, Carnival Games and Rides, Food Trucks, Live Music and Entertainment, Costume contests with over $750 in Prizes for Men, Women, Children, and Groups. Mrs. Liscum said her favorite part of this event is "Getting the first-hand look at the creativity and being blown away by every aspect of the newly designed rooms and themes in the haunted house. It is amazing to see how they have been enhanced and taken up a notch with the fear factor each and every year. However, when I am guided through all the lights must be turned ON " she said.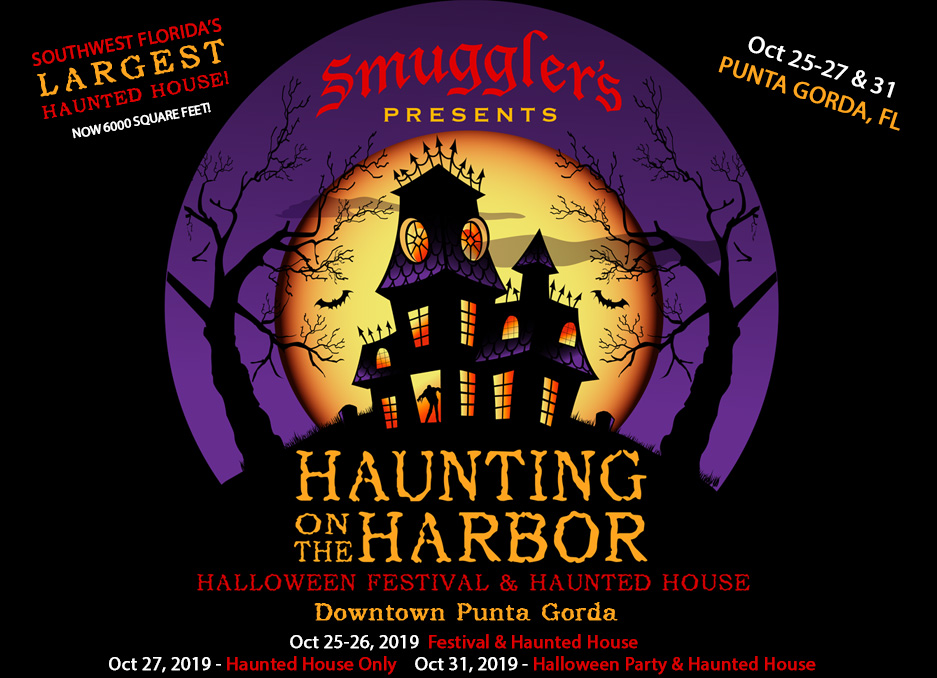 Located in the heart of Punta Gorda is one of the things that makes this event that much more special. The Smuggler's Foundation plays an integral part in our community and is comprised of: The Captain's Table, Harpoon Harry's, Laishley Crab House, and Harpoon Harry's Crab House. Together, they contribute over $100,000 annually back into Charlotte County with a percentage of their daily restaurant sales. Their Event Team is no different in their contributions and this year a portion of the net proceeds from the Haunted House will be contributed directly to Charlotte County Athletics. Each year, they also work with the "Holiday for Hero's" organization and sponsor a member of our military that has family ties back to Southwest Florida. They then create care packages and send messages of thanks to that military member and their troop. At Harpoon Harry's, they create a huge banner that gets signed by customers during the holiday season and then sent as a big Christmas Card to their Hero overseas.
As you venture out to celebrate Halloween this year and choose to take the risk of getting a fright at Haunting on the Harbor, know you are also contributing to a company that's philanthropic efforts are full circle for our community.
Friday, October 25th 5pm-11pm
Saturday, October 26th 5pm-11pm
Sunday, October 27th (Haunted House only) 7pm-10pm
Thursday, October 31st 5pm-11pm
October 25th 7:00 PM

Angela's Café Italiano

October 26th 7:30 PM

Fisherman's Village King Fisher Fleet

October 27th 10:30 AM

History Park Market Punta Gorda

October 28th 5:30 PM

Charlotte County History Services

October 25th 6:30 PM

Venice Community Center

October 27th 5:00 PM

Grace Community Bible Church

October 31st 7:00 PM

Sage SRQ

October 26th and 27th

10:00 AM- 5:00 PM

Fruitville Grove, Sarasota

October 26th and 27th

10:00 AM-5:00 PM

Padgett Ranch, Arcadia

October 26th and 27th

9:00 AM-5:00PM

Hunsader Farms, Bradenton

October 25th

5:00 PM- 8:00 PM

Port Charlotte United Methodist

Daily

Check Site for Times

Grace United Methodist Church, Venice