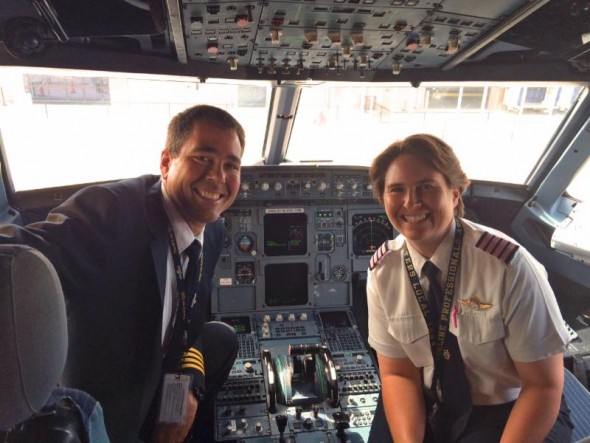 Each month we look to highlight the accomplishments of those who have either touched our lives or made an impact on our community. This month we bring you a very special couple who are here not only as a result of the improvements made to our community, but are the very ones bringing all those flying here to enjoy what we like to call "Our little slice of "Paradise."
Meet Allegiant Airlines Captains, Mark and Leigh McCann. If you are a "white knuckle flier" like me, you'll find yourself in some of the most capable hands in the industry with these two. They are engaging, extremely knowledgeable and have a great sense of humor, as you'll soon find out.
I knew this was a couple I was going to like when helping them purchase a home this past spring. Leigh had to fly and Mark was doing the final walk through for their "new" home. As we walked the grounds of this pristine country setting, an Allegiant jet just taking off passed directly over us. As a Realtor I thought to myself, "With the roar of those jet engines he'll never want to close on this home," but to my surprise, as I was apologizing for the noise, Mark replied, "That's O.K., that's Leigh." I replied, "What do you guys do, dip a wing to say hello and good-bye to each other?" Mark just laughed and said, "Not quite, typically just a quick flash of the landing lights, but we're used to it." At that point I knew I was going to become fast friends with this couple.
Born in Arroyo Grande, California, before moving to Phoenix, Arizona, in 1978, Mark said he knew at a very early age he was going to pursue his passion to fly. Leigh on the other hand, who grew up in St Louis, said her childhood dream was always to become an astronaut and even went to space camp. Their paths crossed while attending college in St Louis. Mark was pursuing his Bachelor of Science degree in Aviation, when Leigh, who was studying Aerospace Engineering, saw that Mark was having more fun with his major. She decided all the math courses weren't for her and she, too, pursued a path of becoming a pilot.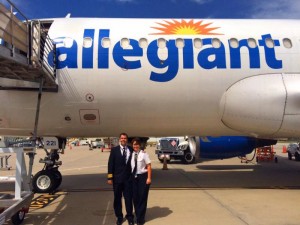 Their careers paralleled each other as both became flight instructors before becoming Captains with a commuter airline company based out of the Phoenix area. However, in 2007 Leigh left to join Allegiant and in 2014 Mark joined the Allegiant ranks, as well. While they tease that earlier on in their careers Mark achieved his Captains license first, they pointed out whenever you move to another airline, your "captain's" designation does not follow you and must be "regained" with the current airline you join. Leigh got somewhat of the last laugh since she joined Allegiant prior to Mark and attained her Captains designation first. In fact, Leigh is one of the most tenured Captains for Allegiant in this area which now boasts 36 pilots or 18 flight crews.
It is a long way from the small Socata manufactured Tampico planes they used when instructing their students to the MD80's they are currently flying. However, Allegiant is updating their fleet of planes to the much more technologically sophisticated Airbus A320's, which not only can hold 177 passengers, but are far more fuel efficient and quiet, which those living close to the flight paths will be glad to hear. These planes are so sophisticated that all Allegiant pilots are required to go for three months of intense training before being typed rated to fly this aircraft. As both Leigh and Mark have indicated, this plane really hones your computer skills.
Currently Allegiant keeps six planes at the airport and would like to add more to their base of operations, as they said there is a real need to expand, but parking is what limits their ability to do so. Statistically the numbers are there, as shown on the Punta Gorda Airport website, www.flypgd.com. Compared to the time period of January through August of 2014, Allegiant has flown almost 150,000 more passengers this year, which is not only a dramatic increase, but bodes well for our local economy.
When not making their daily round trips to places like Ohio and Indiana, Mark says if they could get the time they would love to travel back to Switzerland, as they are avid skiers. Although, since "9-11" the challenge they have is getting time off together, since both are Captains and no longer fly together. However, when not flying they love to kayak and ride their motorcycles, but are considering trading them in for a boat since the area's relatively flat terrain doesn't provide the same thrill the winding mountain roads out west gave them. Unfortunately having moved here in March, and then each having to go back to Arizona simultaneously for three months of intense flight school training for Allegiant's new fleet of planes, they haven't had much time to explore the area.
Although, they love the colorful downtown area and community spirit.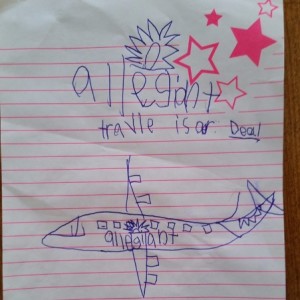 When asked about what kinds of questions or comments they most get from their passengers, Leigh said most people are surprised she is a pilot, no less a captain. She is one of the rare few, as she said women make up only 4% of the pilot population in the industry. When I pressed her as to what the passenger response is from those who find out she is a pilot, she laughed and said they typically say, "Well, good for you."
Both are extremely personable and proud to be with Allegiant. Mark said he especially loves it when kids want to come into the cockpit, as he loves their inquisitiveness, a quality he and Leigh seem to have themselves. When asked about his favorite place to fly, he said "You may be surprised, but West Virginia is one of them because the passengers have always been so friendly and appreciative," something he sees here in Punta Gorda, as well.
Despite their accomplishments as Captains for a growing airline, Mark is equally as proud of the accomplishments Allegiant has made. He pointed out that for 50 consecutive quarters Allegiant remained profitable, even during the recession, which he attributes to the unique niche it fills. Mark said Allegiant is not targeting the business traveler but has captured the "leisure market" as they service the "under- served" markets that want to travel to popular or resort destinations. He says much of their passenger base is first time fliers or seniors who enjoy their travel on Allegiant.
Perhaps one of the best perks of being a pilot are the vistas they capture from the air. Mark and Leigh both commented on the pristine beauty of Charlotte Harbor as they fly around the point of Punta Gorda and Burnt Store Isles on final approach. Unfortunately when the weather is not clear they have to take a more direct approach to the airport. Although, with the new, almost complete instrument landing system approved by the FAA, they may be able to stay out over the water a little longer, hopefully capturing a break in the clouds so the passengers can enjoy the same majestic views they have experienced many times themselves.
I have come to realize we have many great champions for our community, but as the first point of contact for those coming to our area, Punta Gorda and Port Charlotte could not have better ambassadors than Mark and Leigh McCann, as they encourage those they meet to enjoy all the area has to offer. So the next time your travels take you on Allegiant, see if Mark or Leigh are at the controls. If so, sit back and enjoy the ride, as they give new meaning to the phrase "fly the friendly skies."