I remember as a young child growing up in New York the excitement we had getting up early to see what the Easter bunny left us. While we didn't receive gifts like we did at Christmas, there was something very special seeing the big Easter baskets filled with chocolate bunnies, assorted jelly beans and those marshmallow "peeps." We dyed our Easter eggs, usually winding up with as much dye on our fingers as we did on our eggs and who can forget the fun we had finding them on our Easter egg hunts in those hidden places in the yard our parents carefully hid them.
As I grew a little older, Easter took on a different meaning. Good Friday we took our Easter lilies, and hyacinth plants and visited the cemeteries of relatives who had passed and gave thanks for the sacrifices they made so we could enjoy the life we had. It was a special time of year as the fragrance of these flowers and the buds on the trees signaled spring was in the air, which to me represented the rebirth or awakening of a season I loved so much.
Today I look at Easter from a totally different perspective, but with the same gratitude I did in my younger years. I think of the significance of Easter and the impact and sacrifice Christ made for us all. However, it has also opened my eyes to the sacrifices some people make each day; foregoing the things we as a society consider success, in order to enrich the lives of others. One such person is Tom Parker, Area Director for Young Life.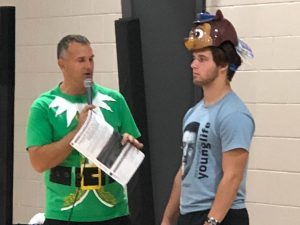 For those of you not familiar with Young Life, while it is described as a Christian based organization where staff and volunteers alike contribute their time to mentor and assist middle and high school students based on Christian values and principles, it is much more. Kids of all faiths, race and ethnic backgrounds are welcomed into an "authentic environment"where they can talk about the challenges they face in everyday life.
As for Tom, he was born and raised in Indiana and like most kids growing up loved sports and the friendships he made. Just out of college he felt a calling to get involved in "Youth for Christ," which opened the door for the ministry he is serving today. After spending time mentoring kids in Indiana, opportunities in Texas and Alabama presented themselves where for a combined 10 years Tom served as a Youth Pastor on staff.  It was at their church in Alabama Tom and his wife Anna felt most at home, however, after 6 years the work environment changed as did the dynamics of the church. A move to Fort Myers, Florida was thought to be their next opportunity but after a year Tom said it wasn't the fit they thought it would be. He said, "My heart may have still been partially in Alabama, as I still had connections there I kept in touch with that were like family to us."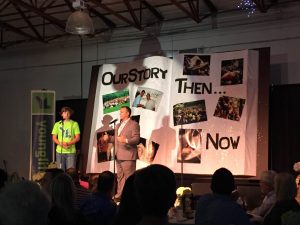 It was during this time of transition and soul searching he met Bill Loy, the Young Life area director in Fort Myers. Bill shared with Tom an 
opportunity to work for Young Life and the impact he could have on high school kids
. He thought it might be  a good fit for Tom, since his heart was to be in a school setting mentoring kids . Taking a $20,000 per year cut in pay the rest is history as in the eight years Tom has been with Young Life he has watched this area grow and the lives that have been touched.
While Young Life is based on Christian principles, Tom said, 
"Today kids are looking for authentic relationships and will take criticism if they know the person sincerely cares."
 He said as adults we strive for the "American Dream," and all the trappings that go with it, but in the process many times the family unit is neglected. The children oftentimes don't feel loved, wanted or cared for and they turn to social media which is a virtual reality world and often times almost used as a drug. When someone likes a status, a picture or just makes positive comment, clinically speaking it gives a sense of a high.
Unfortunately, they base much of what they believe in from television and posts they read on social media.
Tom continued by saying, "Snap Chat and Twitter allows them to share "snippets" of their lives, but only parts of their lives. Their 
communications skills have suffered as a result
." He feels this generation has lost much of its communications skills by using texts, Instagram and tweets to communicate with each other. He said most times there is no depth to their communication as through these social media avenues they control how much of their lives they'll let you see. They hide their vulnerabilities and feelings since they can't be seen.  Unlike previous generations, through television and video games they can recreate real life scenarios without the consequences. Unfortunately, we're seeing the disconnect that results with many having difficulty in coping with real life situations associated with political discourse, school shootings and challenges they may be encountering at home."When the trials get too tough, it is easier to walk away, and they do the same with relationships instead of facing them." But Tom is quick to add, much of this behavior stems from watching the adults in their lives. When asked how they process school shootings, Tom said, 
"These are young adults whose brains are still developing, so while it is very difficult for adults to understand the 
thought behind these tragedies, it is even harder for kids to process and express their feelings of loss and hurt." 
When asked how kids are responding to the political environment we're experiencing  today, where people seem to be talking at each other and not to each other, Tom said aside from social media kids today are being influenced largely by the thoughts and viewpoints from their educators which seem to override those of their parents. He continued by saying, "We are raising a generation of good test takers, not always good thinkers or problem solvers. We seem to be giving more theories on abstract thinking."
When it comes to church and religion, Tom explained, "Churches, sometimes are waiting for kids to come to them rather than meeting them where they are. Many kids consider themselves spiritual, seeking out something to believe in, but are looking for something authentic and oftentimes times they don't see it in some churches.
Tom shared with me  how not only are the kids feeling the benefit from the Young Life outreach, but parents have contacted him and shared their appreciation for the impact he is making on their children as well.
Through his ministry with Young Life weekly get-togethers in a home environment called "club" to summer trips to "camp,"
 where kids spend a week bonding in a camp like setting with a host of activities and opportunities to share life stories, new bonds are being forged authentically 
where they communicate and share
experiences on a personal level
 and not through social media. Currently, Tom is overseeing Young Life's new location at the Port Charlotte Town Center Mall that will offer mentoring and  tutoring opportunities for kids needing help with classwork, someone to talk to as they look for answers to challenges they are going through and a stage where they can act out skits they often share at club.
You may be asking yourself, why I've gone into such depth about the impact Tom and Young Life has made on these children and what it has to do with the Easter season.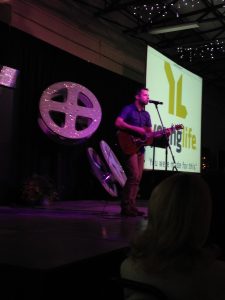 Like Tom, I too 
have had a passion for kids
 and for the better part of the 
last 17 years
 I've been part of a 
design team
 that has planned out the 
Young Life annual banquet 
which is coming up again this year on 
April 15th
. Having coached kids in a variety of sports and seeing the impact and life lessons learned many times on the ball field, I have sensed that same level of satisfaction as finding that special Easter egg and looking inside to find the hidden prize. I saw kids develop a confidence they never thought they had when they got their first hit, or madetheir first basket. I saw how just participating an hour or so in a game gave them something to look forward to as an escape from a difficult home life. I also saw how playing in a team sport formed deeper  bonds and friendships than many were finding in their day to day encounters with others.
This is the environment Tom is helping to create in our area schools where kids from all walks of life can laugh and share life experiences in an authentic setting where they are accepted for who they are. 
Success to Tom was not the financial benefit he could receive in a high  paying job, it was touching the lives of kids who despite the knowledge they have in technology are looking for answers in how to cope with everyday life. As Tom says, " the only way to find them is to be authentic, real and meet them where they are."
If you would like to learn more about Tom and Young Life, or would like to support his efforts like many businesses and individuals have been doing, you can reach Tom at 
Tom@charlotteharbor.younglife.org
 or you can call him at 941-456-5433.
-Gary Cardillo