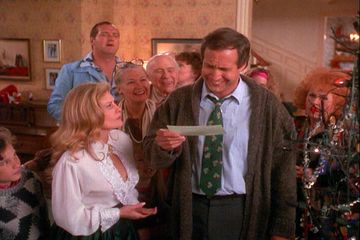 Do you remember the line in National Lampoon's movie Christmas Vacation, where Clark Griswold, played by Chevy Chase, was expecting his year-end bonus to build a swimming pool? Gathered around him in anticipation of his big bonus check arriving any moment was his entire family and of course his Cousin-in-Law, Eddie, who according to Clark said, "his heart was bigger than his brain." When Clark opens up what he thinks is his Christmas bonus only to find out he is enrolled as a member in the "Jelly of the Month Club," Eddie blurts out, "The gift that keeps on giving." While this movie has become a Christmas tradition our family watches each year, Eddie's line is one of the most quoted of all those we have collectively memorized and perhaps the one that has the most significant meaning to me.
Not that I have aspirations of joining the Jelly of the Month Club, but many times this year I have been asked, "How has business been…it must be a great time to be a Realtor?" While it has been a good year, this business is far from shooting fish in a barrel, as anyone who understands the real estate market can attest, it is characterized by peaks and valleys. However, after almost 18 years in the business, I can honestly say there is something much more rewarding than just listing or selling a property; it is the friendships we've made along the way. To me, that is the true "Gift that keeps on giving."
Through these friendships, we've been all over the world from Singapore and Vietnam to Europe and South America. We traveled through the back roads of our great country and journeyed the Intracoastal from Florida to New England. We've met politicians and have been to some of the most dangerous locations in the middle-east. "How did you get to do all of this in such a short life span you may ask?" While I've experienced some very special places when traveling through our country, unfortunately the closest I've gotten to Europe was a road trip to Massachusetts. Sarah Palin may have claimed to see Russia from her home in Alaska, but through the intimate stories told by clients who became close friends we feel as if we experienced these real-life stories and adventures, many of which we hope to take ourselves someday.
Everyone has a story or knows of someone who has a storied background, but when you have the opportunity to spend as much time with clients as we do, their histories come to life in a way that makes you feel as if you went through a time with them. I remember one client who had been in the largest naval battle to this day. He was on a 500 ft. aircraft carrier in the Philippines and to listen to his story of the incoming fire they took, you couldn't help but feel you were right alongside him. Other clients spoke of Communist regimes they escaped and how their families lost everything they had to come to our country. Others have been in the entertainment industry, some have been writers and still, others have created products that are widely used today. There have been CEOs and those that rose from poverty to creating highly successful businesses, going on to mentor others so they could have an opportunity to better themselves. We've also heard countless stories from physicians, who without fanfare traveled abroad to many third world countries administering to those in need, and did I mention a Grammy award-winning Pastor whose lives he continues to touch each day? For those of you whose stories have appeared in our newsletters you know who you are, and how your stories have had such an impact on my life, as have so many others.
Some people measure success by the sales teams they put together and the volume of business they claim they do, but we've learned there is something much more important to life that isn't found in the profit and loss column.
We live in a time where the media is focused more than ever on negative news and the things that divide us, not the common ground that can bring us together. When I see thousands of people turn out in mass to simply watch the lighting of a Christmas Tree or eight Clydesdale horses pulling a wagon through the streets of our downtown with two men and a Dalmatian sitting alongside them, I think to myself, "aren't these the timeless pleasures we seem to embrace, and innately desire to enjoy?"
Through our business the people we meet that become such good friends, are the "gift that keeps on giving," and why we consider ourselves so blessed to be involved in such a wonderful business that gives us that opportunity every day. Thank you, for making every year so special to us, and for always reminding us, what is important in life; our relationship with each other.
We wish you and your family a wonderful Christmas, a very happy holiday season, and much good health and happiness this coming New Year.
-Gary & Gail Cardillo